Still Tangled
Performance
Exhibited at Goethe Institut / Max Mueller Bhavan Bangalore, Bengaluru, IN (2023), Allies for the uncertain futures - Part 4, Party Office, New Delhi, IN (2023) and Forplay Scoiety, Fort Kochi, IN (2022)

"Creating a temporal loop between two identities, straight and gay, digital and embodied, with flowing tresses and chopped close, pre-pandemic and post-pandemic, the artist interrogates the nature of change in her new performance 'Still Tangled'. Avril disrupts the visual and aural realm of her video work 'Untangled' (2021), with a recently evolved set of gestures, cradling, reeling, entangling the viewer through this intimate meditation on the passage of time." - Shaunak Mahbubani
https://www.thehindu.com/entertainment/theatre/artiste-avril-unger-talks-about-still-untangled-and-reaching-a-place-of-self-identity/article66615233.ece
Unfolding Flowers
Performance
Exhibited at National Centre for Biological Sciences, NCBS Archive, Bengaluru, IN (2023) and India Habitat Centre, New Delhi, IN (2023)

Unfolding Flowers is a performance by Avril Stormy Unger that exposes the violent cost of our romance. The work seeks to situate the agency of a rose that becomes the hapless victim of a game of He Loves Me. He Loves Me Not. Here, the rose serves as a placeholder for all those destined to be sacrificed at the altar of heteronormative love. Suspended between the jarring notes of a drill and the tender trills of love songs, the performance brings out the crushing complexities of passion, both its torturous exactions and dalliances with pain.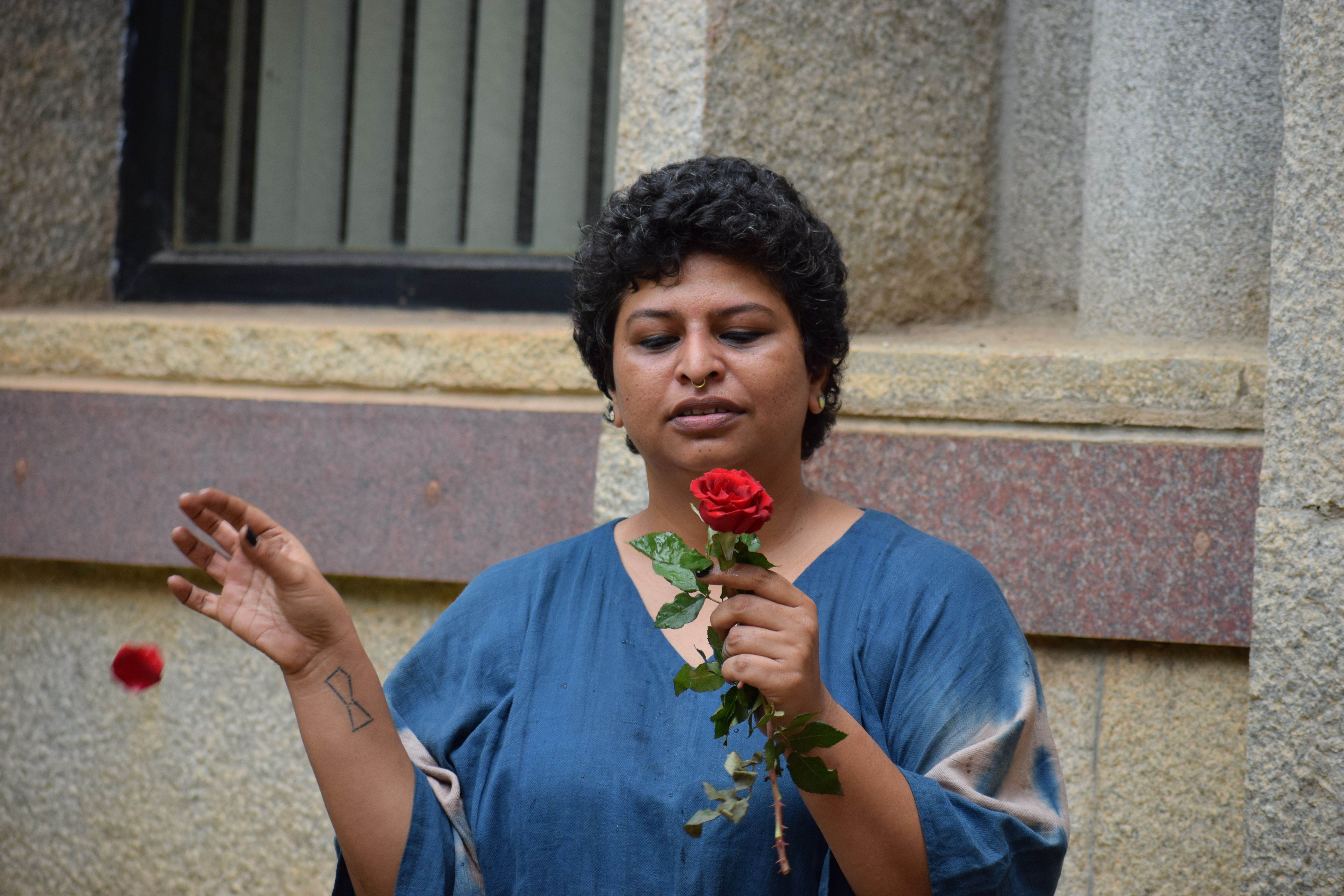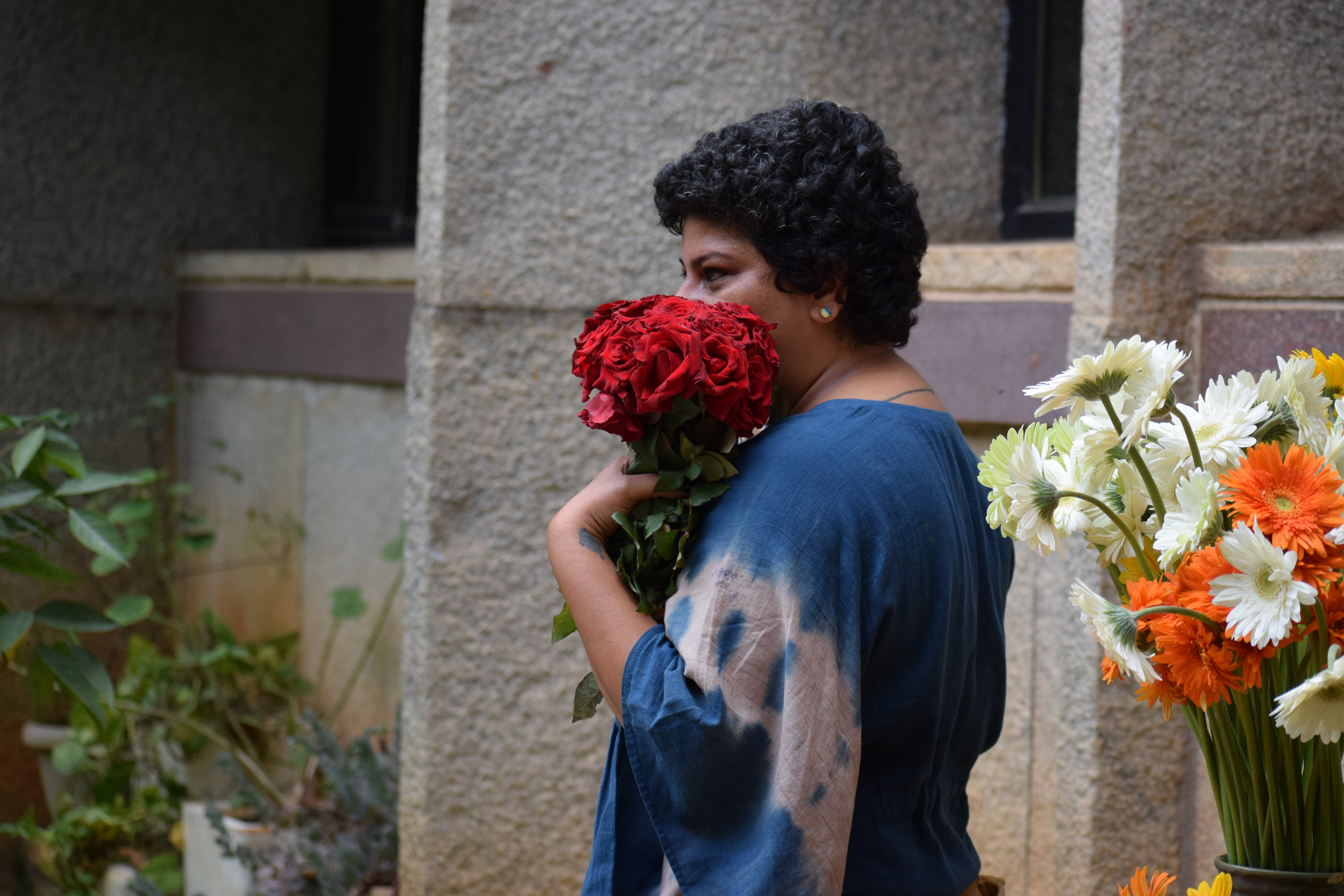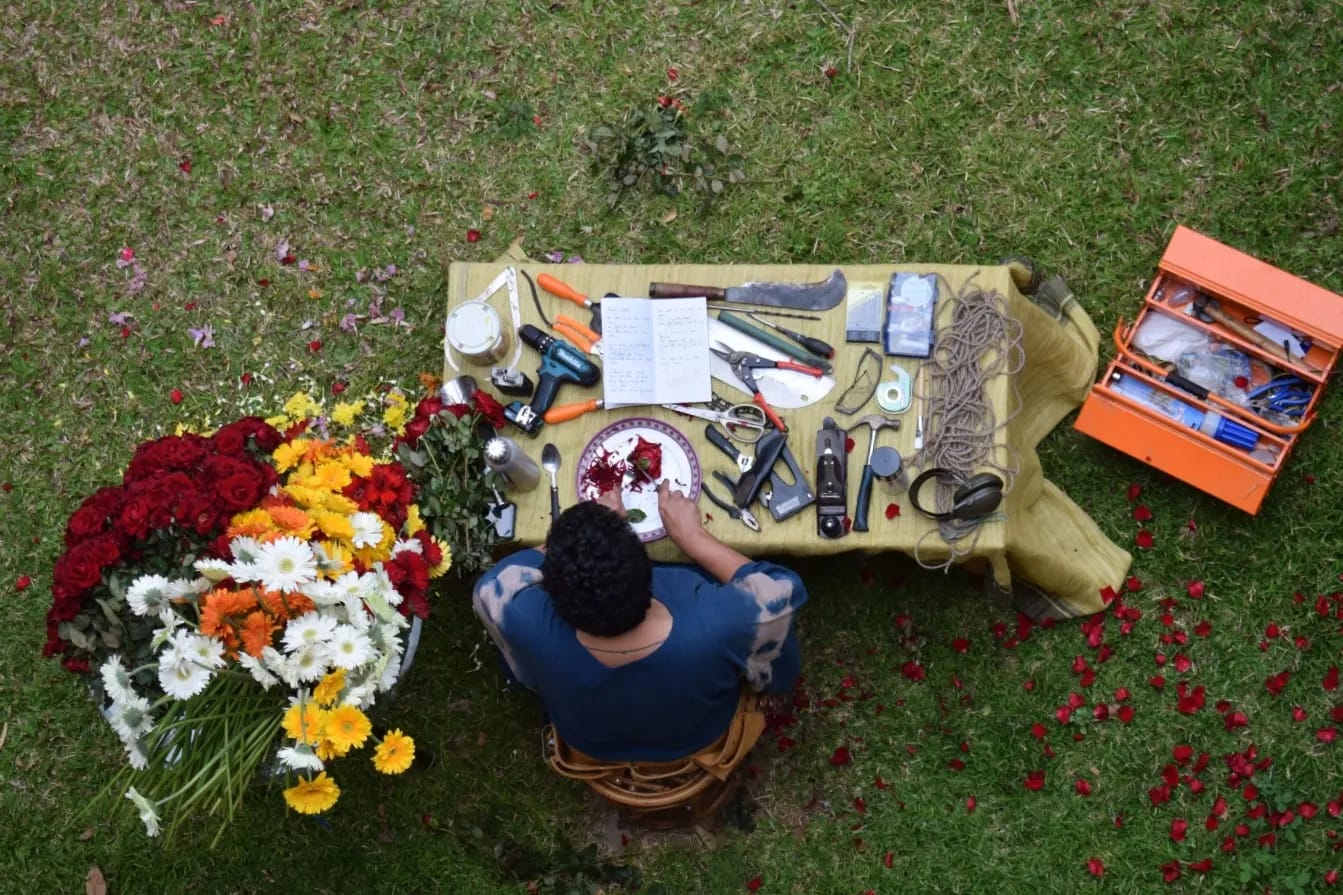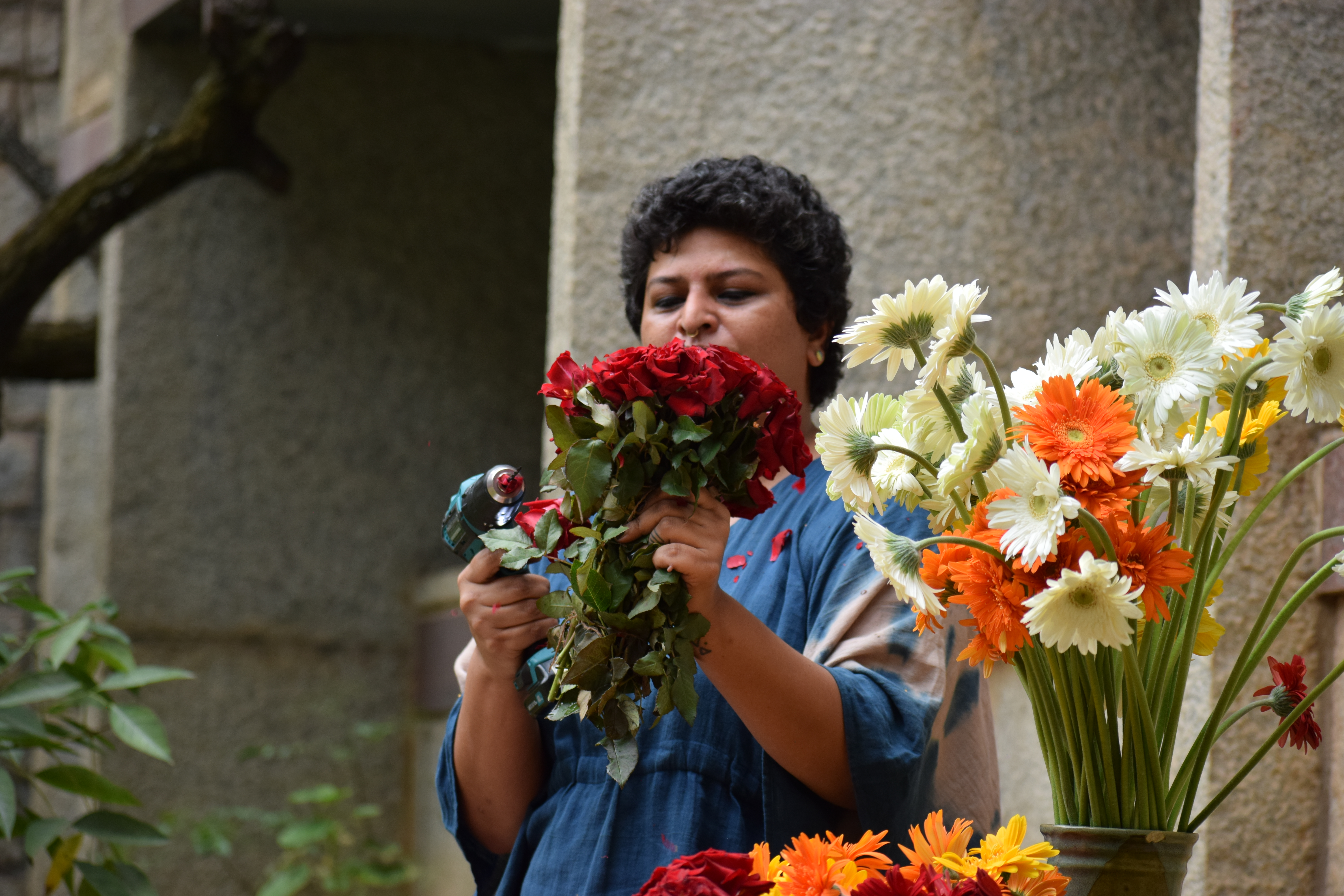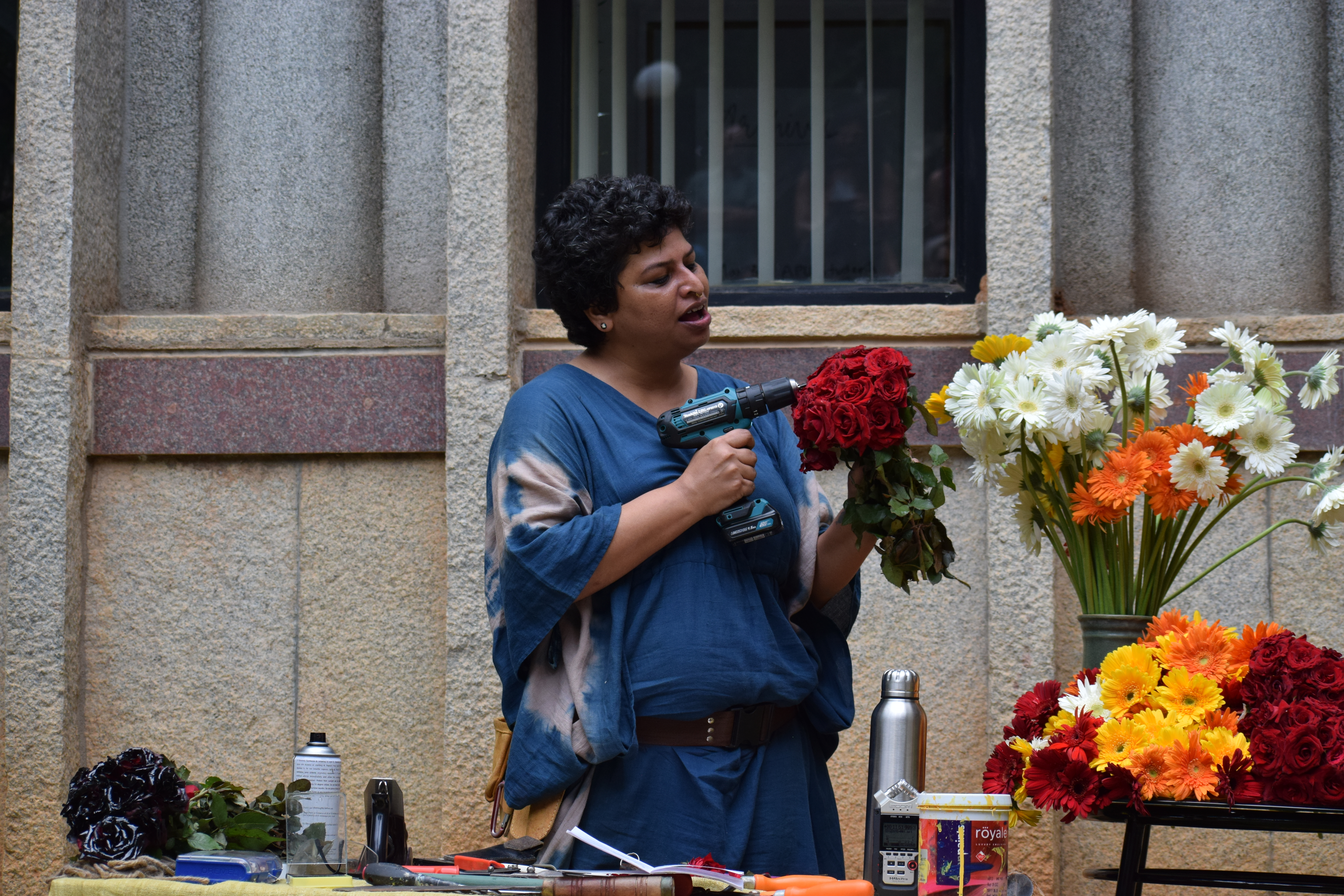 I do, do I?
Performance
Exhibited at 1 Shanthi Rd, Bengaluru, IN (2022)

I do, do I? is an impulsive reaction to the question of marriage from a queer perspective. Aimed to be performed in public spaces, the work examines the larger systems of marriage, heterosexuality, and monogamy. These systems, being exceedingly black and white, coerce people into certain roles, choices, behaviours, and lifestyles. 'I do, do I?' is a response to these social entrapments and provokes questions about individual agency.
The performance stems from the artist's personal experiences of growing up Catholic, alighting in particular upon the virginal wedding gown and other bridal accoutrements like the veil, the gloves, the garter, the lingerie, and so on. The performance invests in this tableau only to tear it apart. The bride and the gown collapse under their own symbolic weight.
Post performance, visual traces in the form of the nailed-down gown along with the sonic composition will remain to convey the terrible weight of the effort.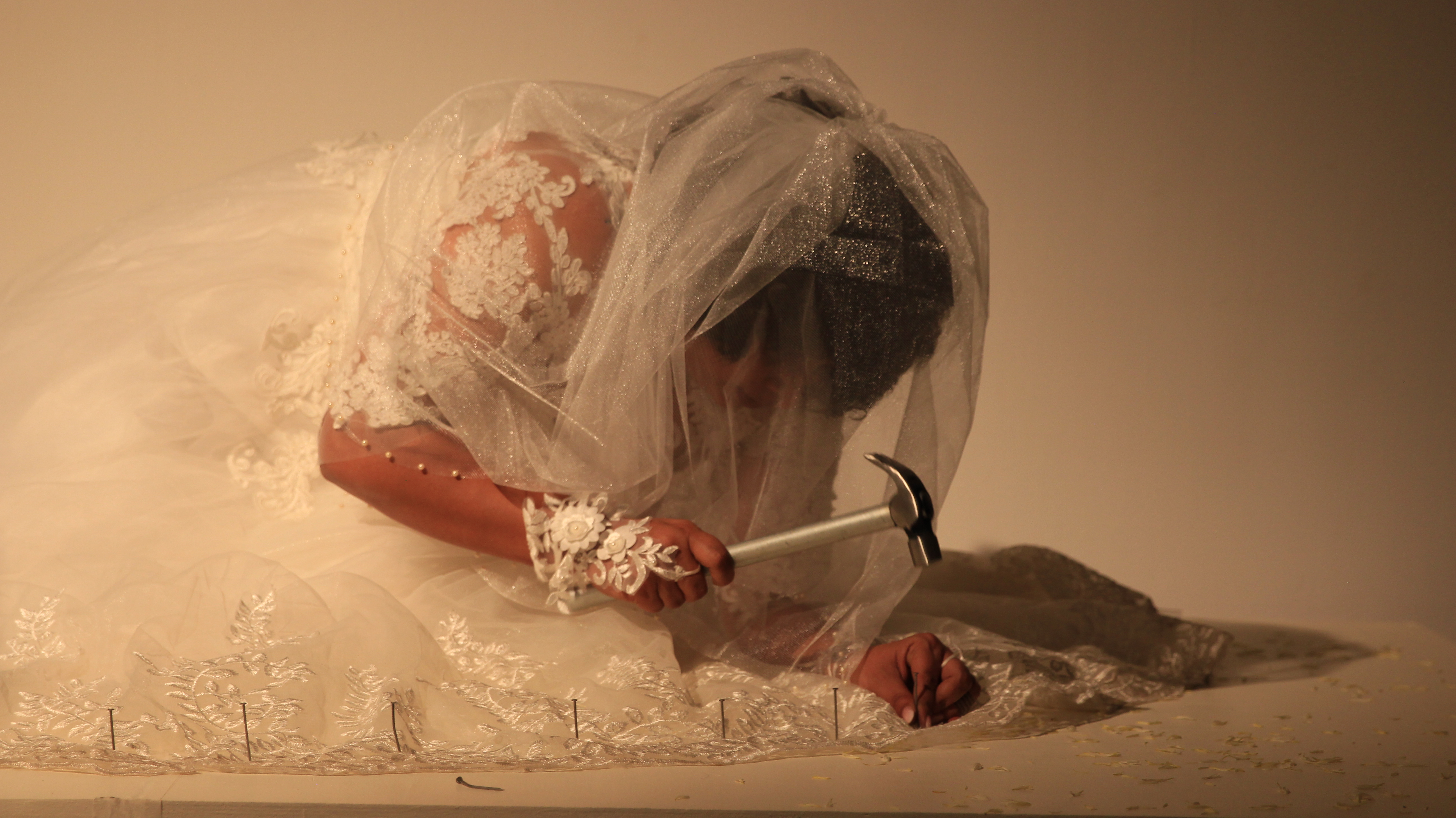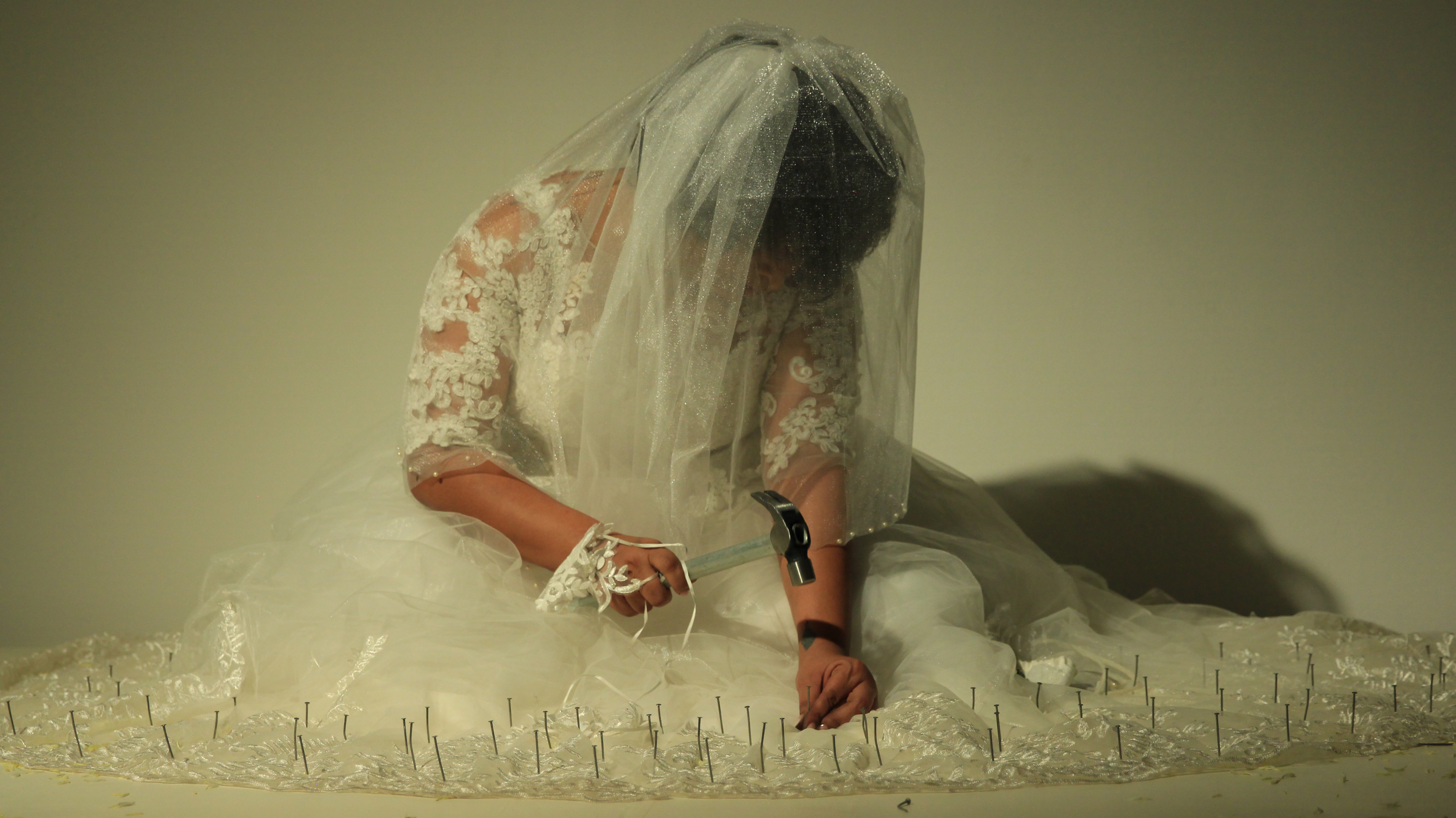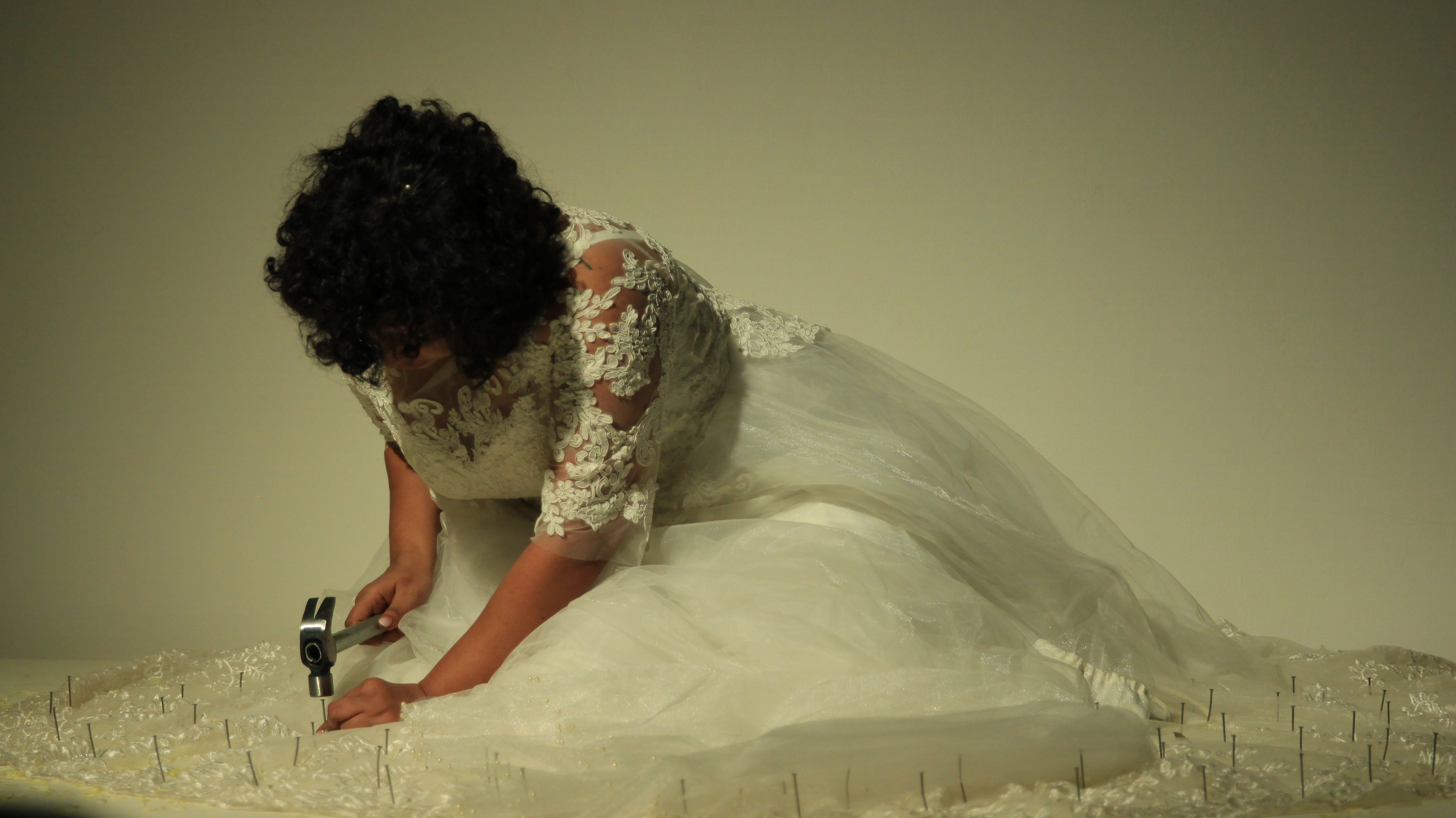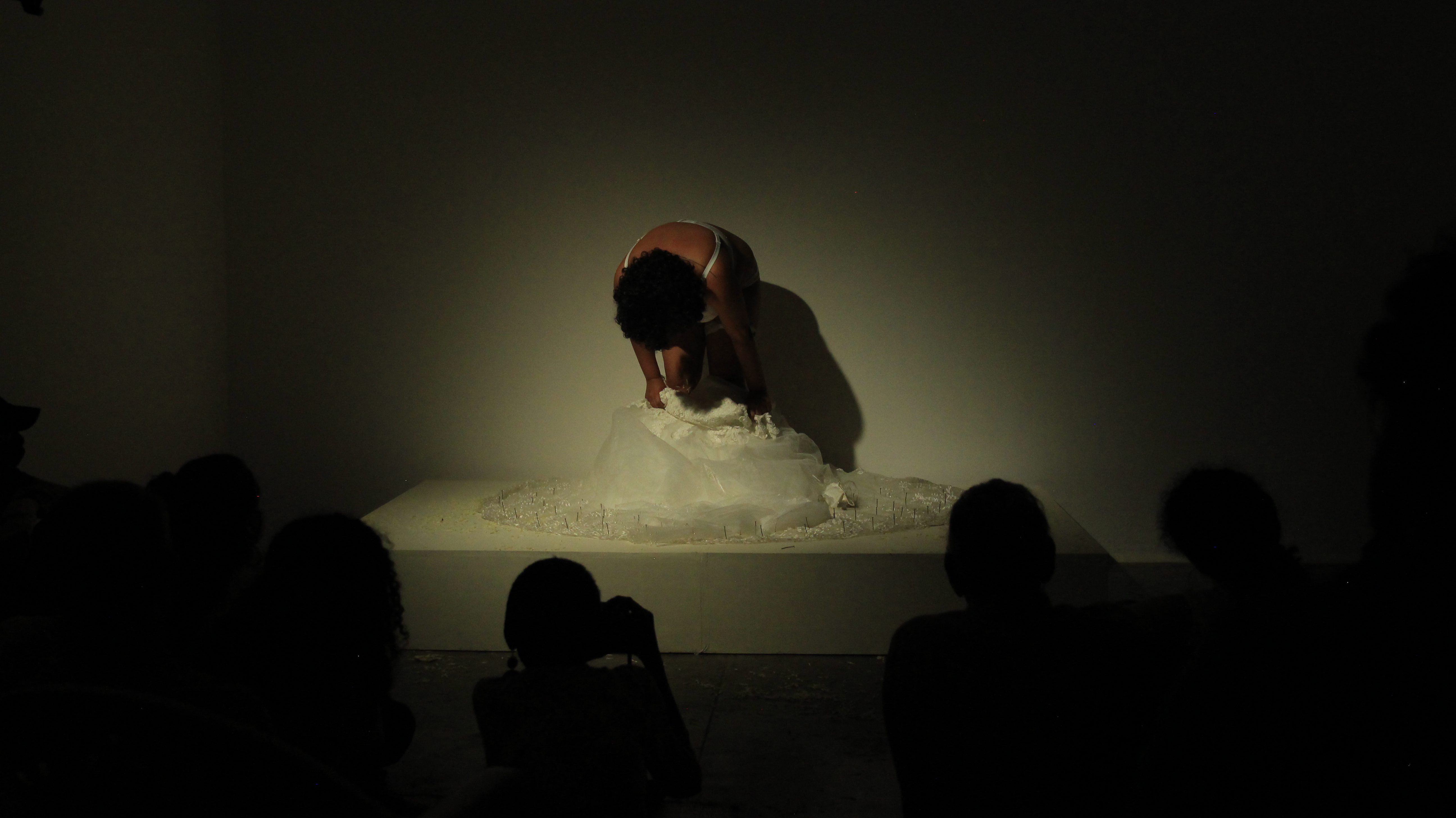 Almirah
Solo show
Exhibited at 1 Shnathi Rd, Bengaluru, IN (2022)

The works showcased in Almirah were created in isolation, during the pandemic years when Avril was also coming to terms with her sexuality. Household objects and domestic acts like stitching, humming and ironing have found their way into these works which she created during the pandemic years.
All of Avril's work is informed by performance, whether in video or object form. It is a pursuit of an image or impulse responding to either the space or the social form. Sometimes literal, sometimes metaphorical, it is a practice grounded in being able to see oneself in the world. In the works showcased in Almirah, Avril is exploring subjects like compulsory heterosexuality, intimate partner violence and marginalisation. Using her distinctive and layered mode of expression she forces us to reflect on our individual and collective sense of self.
Almirah features video works and performances.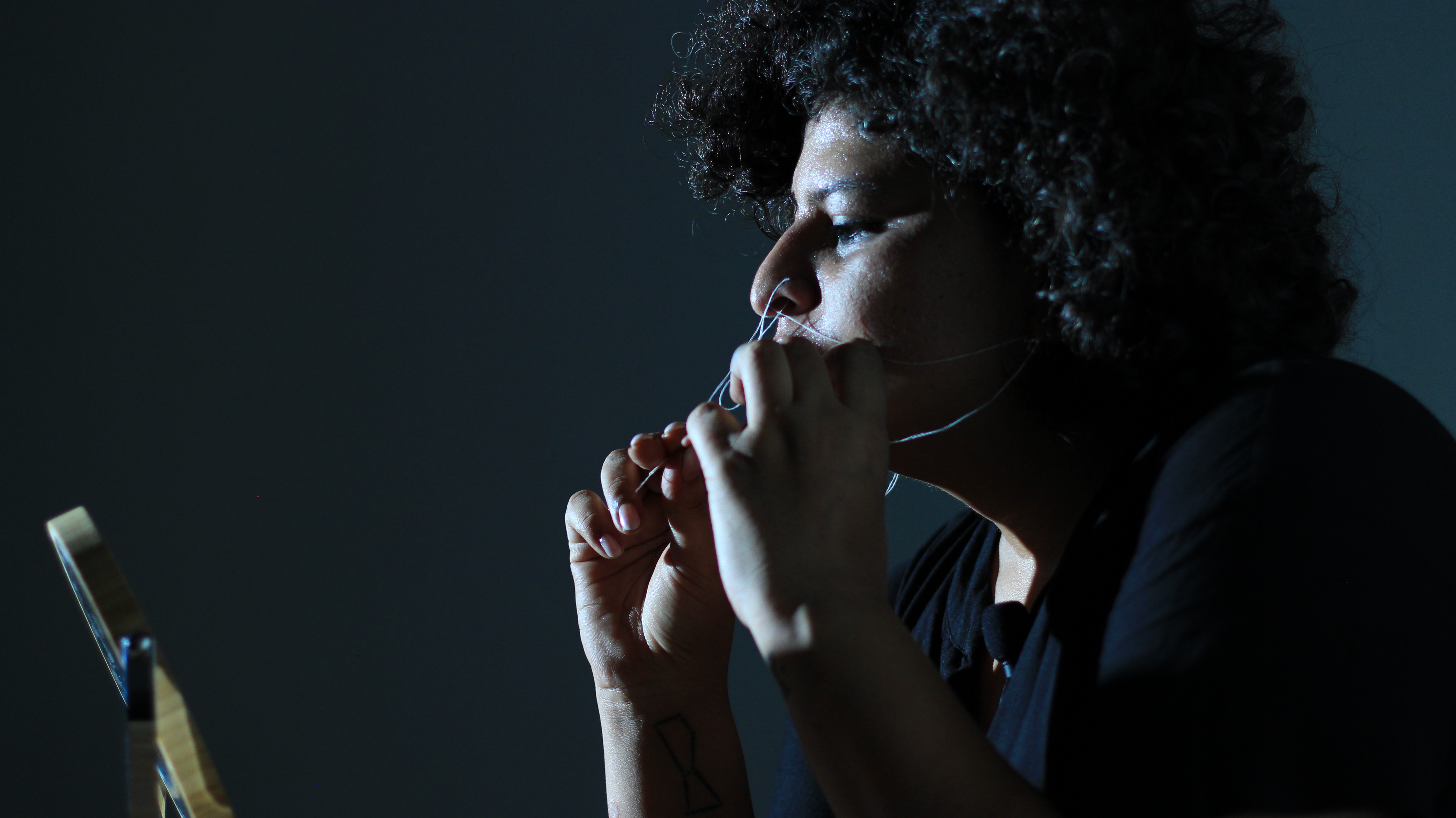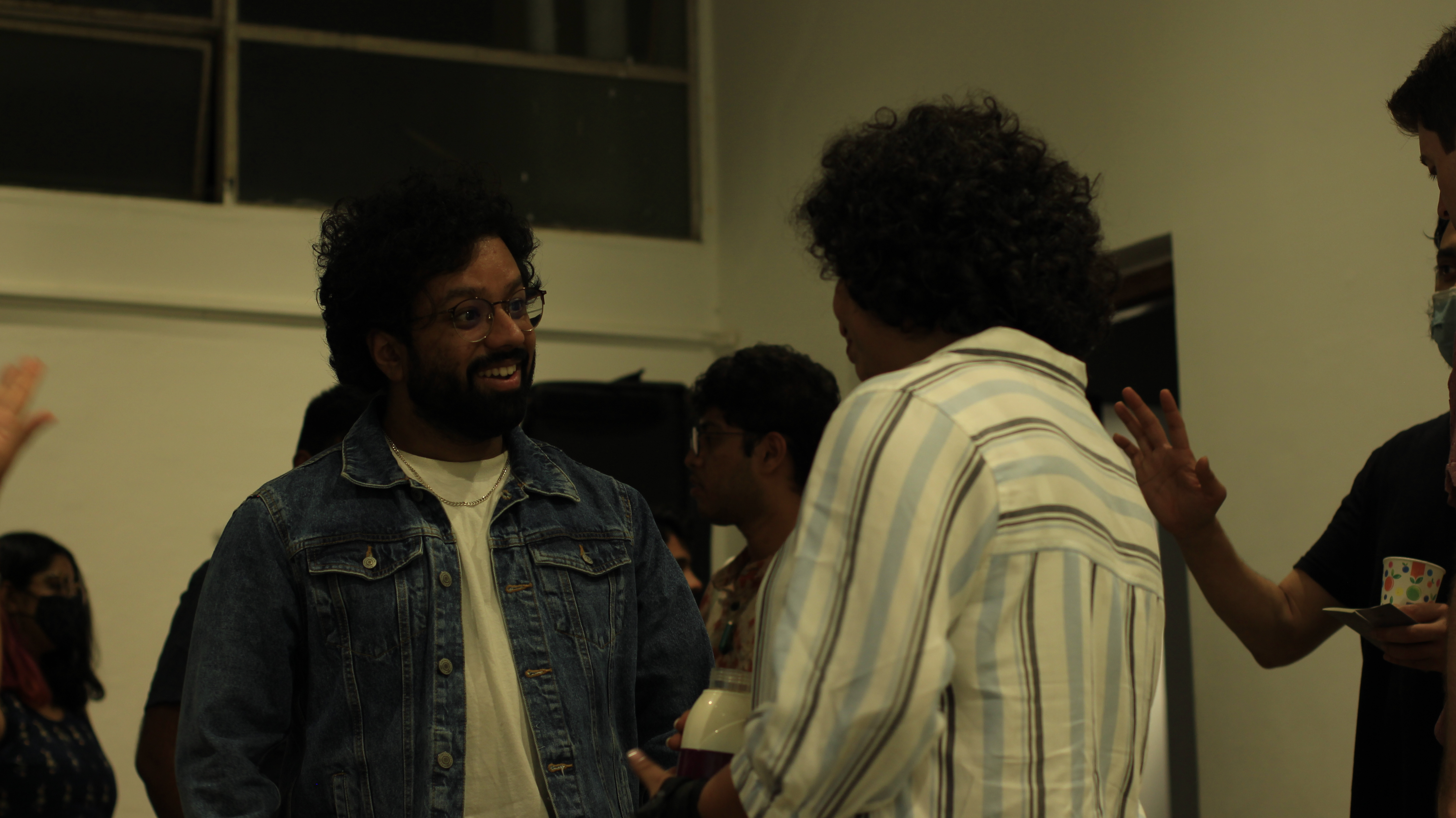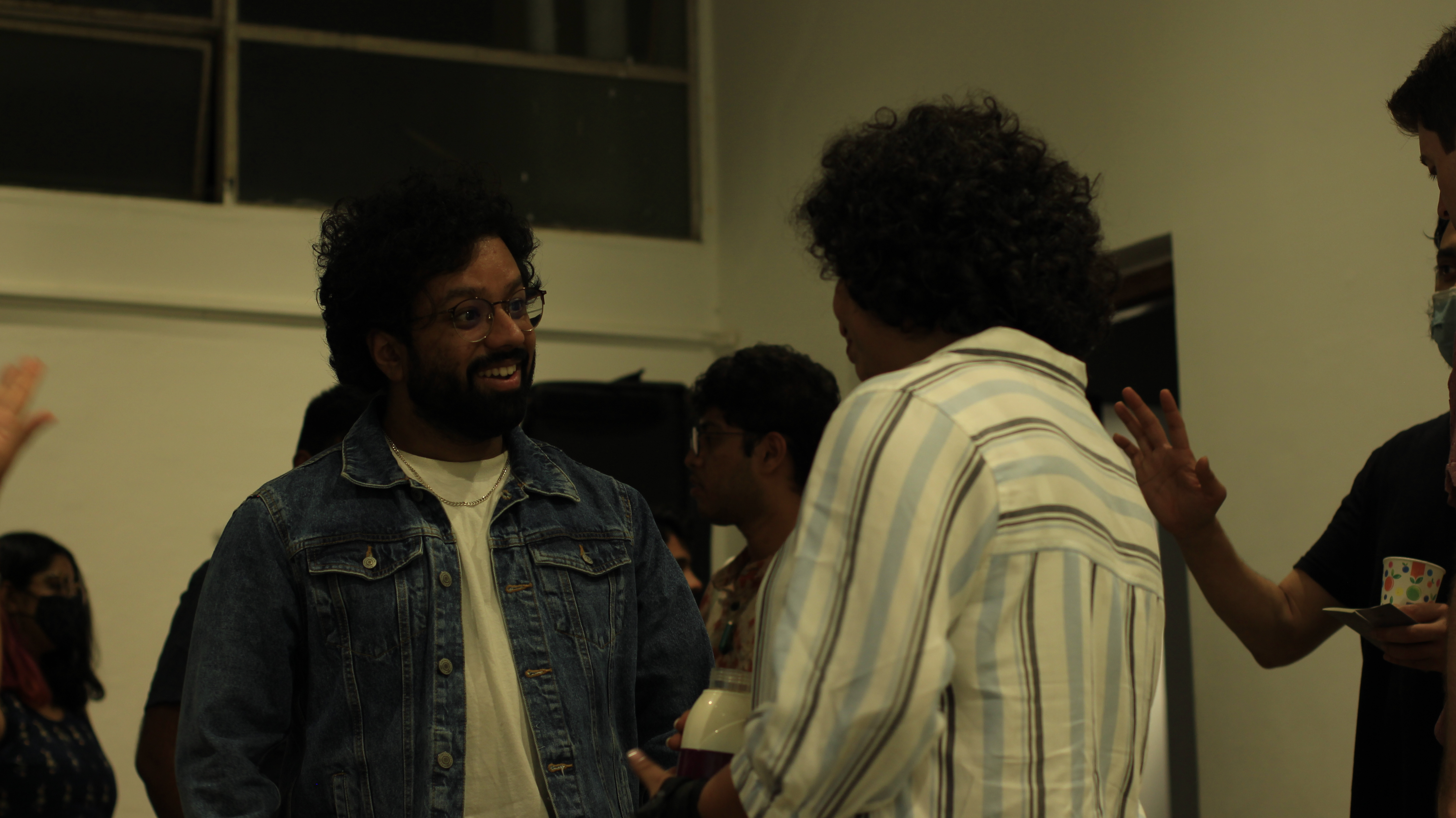 Untangle
Video Performance
Exhibited at Embodied Arts Festival, Oyoun, Berlin, DE, (2021)

Untangle is a loop based video work centred on the complex relationship the artist has had with her hair. It is a reflection of her own internalisation of societal expectations and the journey of unlearning, unpacking, untangling to reach a new place of self identity - an internal process that loops with layered insights each time. Though it started with hair, this project forced Unger to explore deeper questions, thoughts and ideas surrounding her sexuality.
In coming to terms with the true nature of her hair, it became an extension of the artist as integral as a limb and unintentionally personified rebellion in its untamedness, occupying space that was claimed and not given. The main performer, hair, is used as a medium to convey the textured emotions attached to 'straightening' the self, that she allowed others to do to her and had done to herself. The work explores the expectation to fit in, the subsequent acceptance and the strength to embrace her truth.


Mirage
Video performance
Exhitbited at Embodied Arts Festival, Oyoun, Berlin, DE (2021)

Mirage is a performance intervention at a mall in Bangalore, India. It is a commentary on privilege politics and marginalisation using the allegory of a globally exoticised Rajasthani woman.
In 2017 Avril had the honour of living with and learning the folk dance form of Tera Taal from the formidable Mira didi in Jaisalmer, Rajasthan where she also learnt other folk dances from different women in the community. Mirage is an ode to these women who in spite of all odds are pillars of their community, sharing this folk art for their deep love of the craft. This work is dedicated to their struggles and the sheer endurance of their bodies.
https://oyoun.de/en/mirage/
Don't Explain
Online performanceExhibited at 1 Shanthi Rd, Bengaluru, IN (2022), STIRworld, India Art Fair, New Delhi, IN (2022) and Abr Circle, Online (2020)
Don't explain is an ongoing project about intimate partner violence. The project gathers stories of survivors and replicates feelings experienced using moments, imagery and song. Using a mirror, Avril lets the public witness a familiar and private moment that eventually slides towards unsettling. The solitary and passive nature of the performance evokes both fragmentation and reparation, harm and delight, protection, insanity and agency.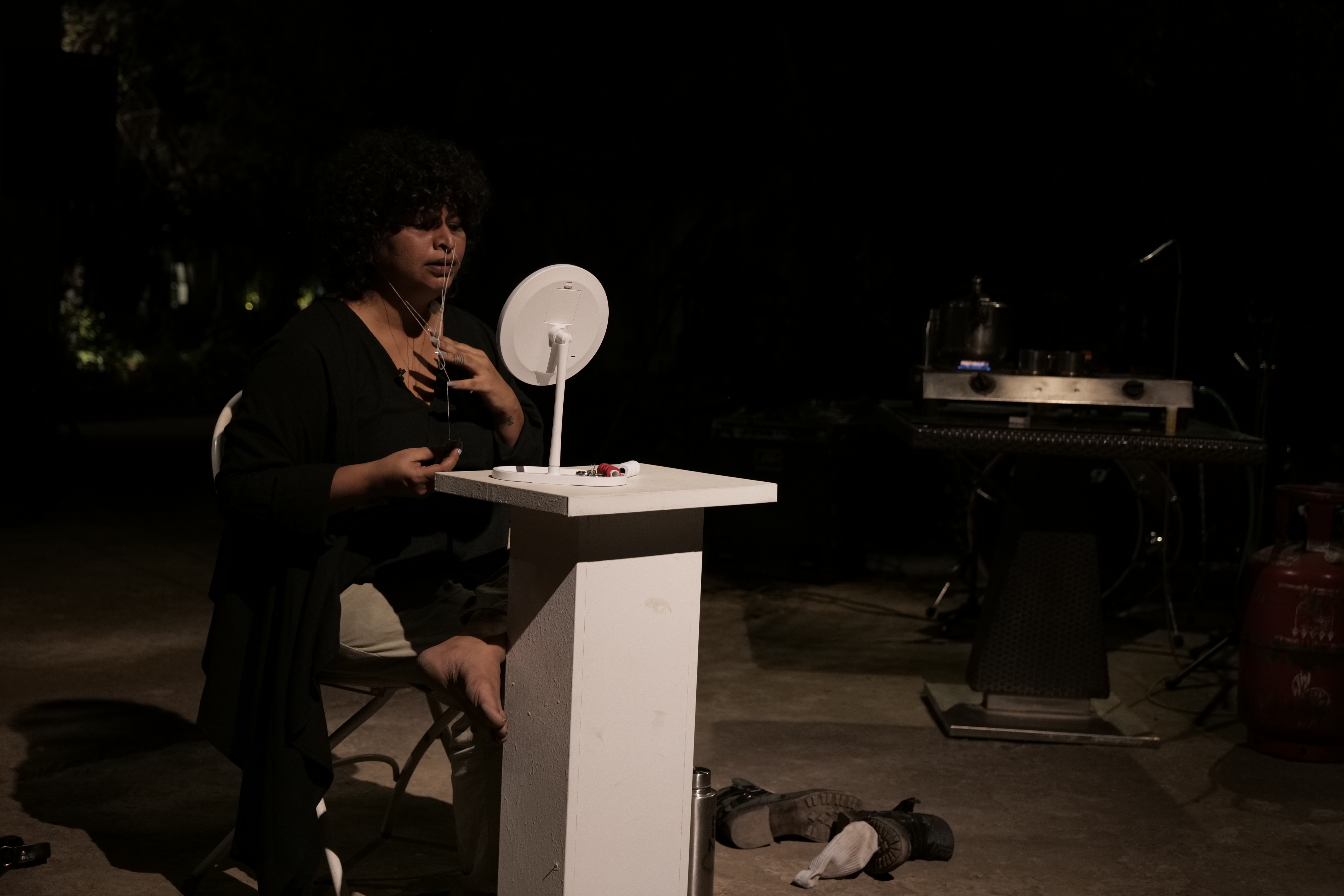 https://www.instagram.com/p/CCIPSocDVpE/
Private Parts
Performance
Exhibited at Five million incidents, Goethe Institut/Max Mueller Bhavan, New Delhi, Five million incidents, Goethe Institut/Max Mueller Bhavan, Kolkata (2019) and Gender bender, Sandbox Collective, Goethe Institut/Max Mueller Bhavan, Bengaluru (2016)
An one-on-one performance that reinvents reality, challenging ideas of self and others by tapping into urban Indian society's dependence on gender roles and forced stereotypes. Private Parts was realised in Delhi and Kolkata 2019 within the framework of Five Million Incidents supported by Goethe-Institut / Max Mueller Bhavan in collaboration with Raqs Media Collective. This project was initially commissioned by the Goethe Institute, Sandbox Collective and The Ladies Finger for Gender Bender 2016.
https://www.youtube.com/watch?v=WGkczxoZC78&t=1s
Chutney Mary
Mixed media collage series
Exhibited at The Courtyard, Bengaluru, IN (2019), Powercut, Bengaluru, IN (2017) and Home Sweet Home, Bengaluru, IN (2016),
This mixed-media collage series uses elements from childhood memories and Roman Catholicism in the Indian context. It explores the conflict between Roman Catholics and Protestants in a personal context of mixed families. The term 'Chutney Mary' is used by city dwellers in a derogatroy way to refer to women from small towns in India.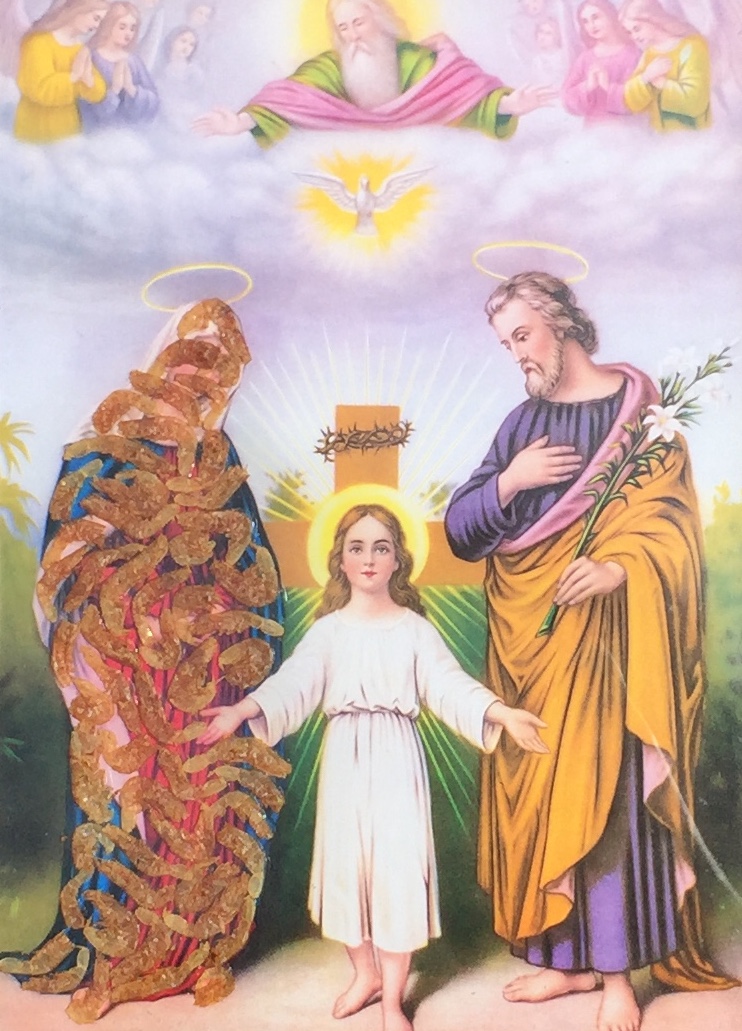 https://www.deccanchronicle.com/nation/current-affairs/190719/hail-mary-chutney-style.html
Only Time Will Tell
Public performance
Exhibited at Old Madras Road, Jhatkaa.org, Bengaluru, IN (2018), Double Road Flyover, Bengaluru, IN (2017), Undergroud Festival, Bengaluru, IN (2015) and Double Road Flyover, Benagluru, IN (2014),
Only Time Will Tell is a durational public performance intervention spanning 10 hours per day for 5 days. From 8AM to 6PM, Monday to Friday, the female body holding flowers that wilt through the day, is placed at a busy intersection finding its way into the apathetic loop of the unban city dweller.
The work focuses on environmental emergency, growing pollution, need for direct action, labour and care. It asks the question of what a city considers progress and what is at stake in the name of progress.
The performance takes place as an act of resistance and protest towards the legalised cutting of trees towards the building of the Metro line by BMRCL.
Public/Private
Public performance
Exhibited at Double Road Flyover, Bengaluru, IN (2015, 2016, 2017, 2018)

Public|Private is a 7 minute live performance public intervention that takes place under a busy flyover at a fixed time and place and repeats for a predetermined number of days.
The performance questions the idea of what is acceptable behaviour by a female bodied and presenting person in a public space. As the city was locking down on clubs, shutting down music and culture venues and dancing was banned and considered 'uncivilised' and influenced by 'Western culture', Public|Private was direct action and an impulsive reaction to these new regulations put in place by the residential societies in high end localities and the Karnataka Government.
https://youtu.be/cZzj0-ut9lQ
.
Unspoken
Performance
Exhibited at Gallery Zero Eight 21, Mysore, IN (2017)
Unspoken is a durational performative installation dedicated to maternal loss.
Foodscape
VR performance video
Exhibited at Powercut, Benagluru, IN (2018) and Venkatappa Art Gallery , Bengaluru, IN (2017)

A VR performance highlighting the relationship between caste and privilige using food as a means of social critique.
https://youtu.be/Reuq9311HVI
#foodporn
Aug '17
Exhibited at Powercut, Bengaluru, IN (2017) and Walkin Studio, Bengaluru, IN (2016)
A photo series questioning ideas of food, sexuality and the hierarchy of power in the local context.
Please Call The Police
Large Room Installation
Solo show
Exhibited at Home Sweet Home, Bengaluru, IN (2016)
An immersive site-specific installation using objects, sounds, lights and smells. Revisiting prominent childhood memories as an adult, with a particular focus on the sense of uneasiness in the ease of a home.
Mostly A, sometimes B
Installation
Exhibited at 1 Shanthi Rd, Bengaluru, IN (2016)
An audio-visual installation that uses stories and conversations to explore the complexities of one's own sexual and gender fluidity in intimate relationships.
Fearless
Performance
Exhibited at Samsa, The Humming Tree, Bflat Bangalore, Kitsch Mandi and Sandbox Collective, Bengaluru, IN (2014)

A movement art project portraying the struggle against fear and helplessness faced by women in an inherently hostile world. From initially being a solo performance, it evolved into an elaborate production, intricately weaving together movement, sound and visual design to create an immersive narrative space.
https://youtu.be/doVhDmv802M
Copyright and all other rights are mine alone.